Be Thankful All Year Long ~ Make A Thankful Jar
Posted by Diane Mullins on Friday, January 1, 2021 at 7:00 AM
By Diane Mullins / January 1, 2021
Comment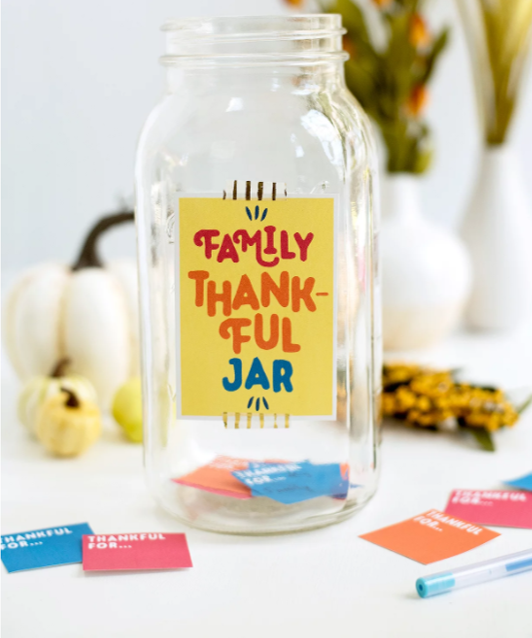 This family gratitude jar is easy to create with these free printables. Just download, print, and attach to a Mason jar! Leave the jar out for the whole year, not just the month of November and have everyone to write down one thing each day/week that they are thankful for.
Some families write down what they are thankful for that happens around the dinner table. Pass out small paper cards and some pens and ask your kids to write what they were most thankful for that given day. After everyone hasl read theirr cards out loud, they place them in the jar and watch the gratitude jar fill up over the year. Bring the full jar to Thanksgiving dinner and read the cards out loud—it's fun to lay all the cards out and revisit each one as a family.
While we all ove acknowledging things we're thankful for during the Thanksgiving season, we're hopeful this new fall activity may extend well beyond November and Thanksgiving to become your family's new dinnertime staple. It's a powerful way for families to connect over gratefulness.
What you need:
Scissors, Markers, Large Mason Jar, Free Printable, Washi Tape or Mod Podge
STEP 1
Download, Print, And Cut
Print the free graphics below. Then grab a pair of scissors and cut out the family thankful jar label and the provided thankful cards.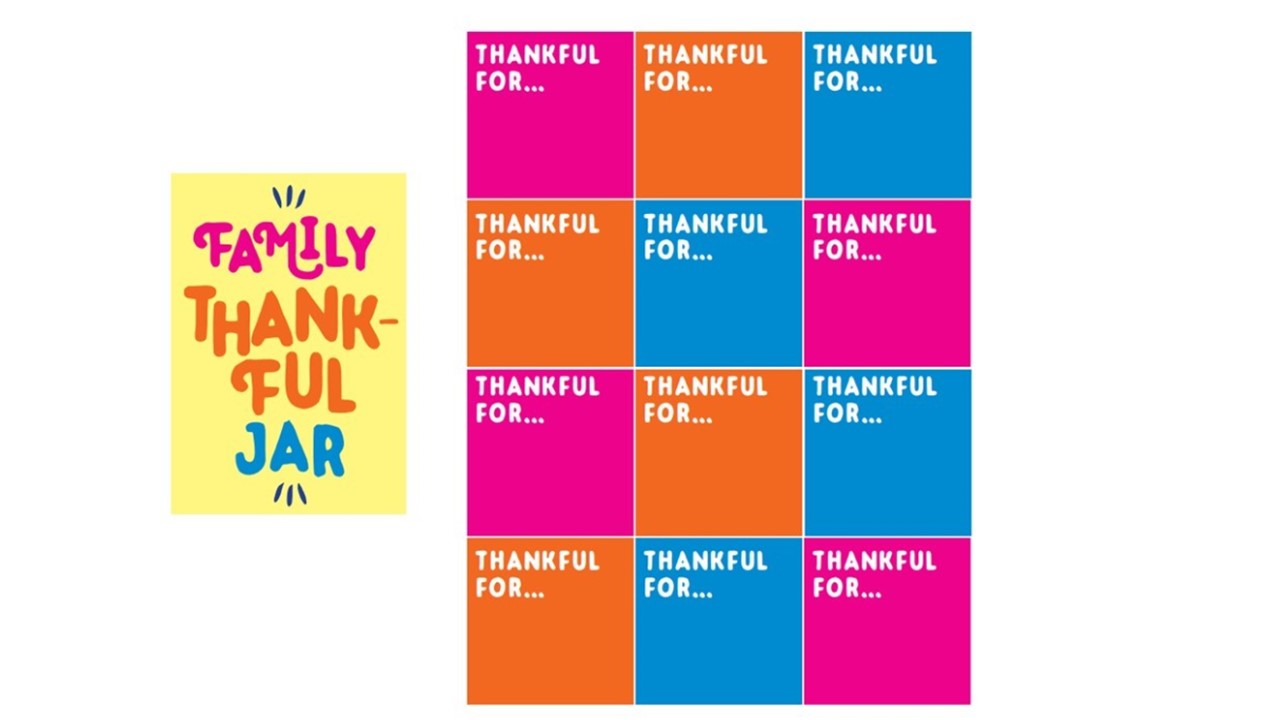 STEP 2
Secure And Decorate
Tear off small pieces of decorative washi tape ($8 for a 3-pack, Amazon) and secure the label to a large Mason jar ($20 for a 2-pack, Amazon). Decorate the jar with additional stripes of washi tape around the rim and base to create something totally unique. Get the kids involved by having them add stickers to the jar.
STEP 3
Put It To Use!
When the jar is finished, make it a habit each day for the family (maybe at breakfast or dinner) to write what they're thankful for on the cards. Keep a jar of colorful pens ($10 for a 10-pack, Amazon) next to the jar so everyone can jot down a thought whenever they want to. You can share as you write, or keep it a secret and go through the gratitude jar when you get to Thanksgiving dinner. It's a great insight into what's important in your and your family's life—and we're thankful that it's so easy to make!