Customer Appreciation Day - Free Concert - Rusty Bladen!
Posted by Diane Mullins on Wednesday, May 26, 2021 at 7:00 PM
By Diane Mullins / May 26, 2021
Comment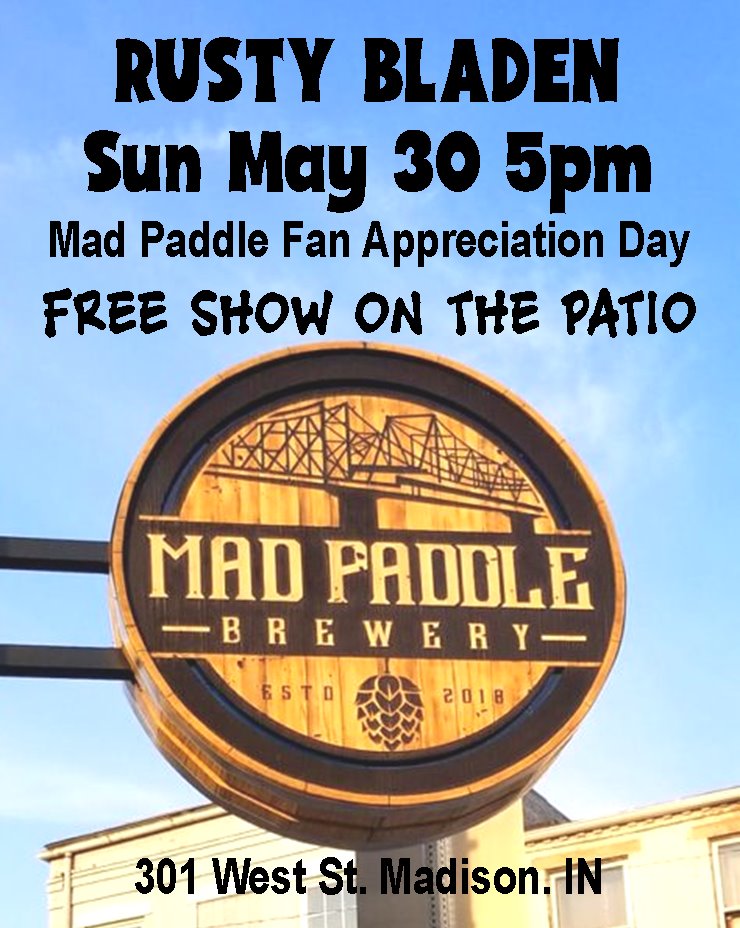 The Mad Paddle Brewstillery is located at 301 West Street, Madison, Indiana
Sunday at 5 PM EDT – 8 PM EDT
Price: Free · Duration: 3 hr
Customer Appreciation Day - Free Concert - Rusty Bladen!
Mad Paddle is an Adult-Focused microbrewery and artisan distillery, family-friendly for families with age 13 children and above, and pet-friendly.
They offer an exceptional experience that includes craft beer, artisan spirits, exceptional food and top- notch musical entertainment.
Mad Paddle's primary target guests are:
1) Adults who enjoy crafty beer, spirits and music
2) Families with children age 13 and above
Microbreweries and Distilleries are typically industrial spaces, adult-focused and not designed with young children in mind. As a business that is focused on craft alcoholic beverages and located in a 9,000 square foot historic building with multiple rooms and floors, we can present an unsafe environment for young children.
The best way for parents with young children (age 13 and under) to enjoy Mad Paddle is to get a sitter and go out on a date!
We love dogs and require dog owners to make sure that their puppy does not become the center of attention!