Earth Day 2020 - 50 Years of Environmental Advocacy
Posted by Diane Mullins on Wednesday, April 22, 2020 at 5:00 AM
By Diane Mullins / April 22, 2020
Comment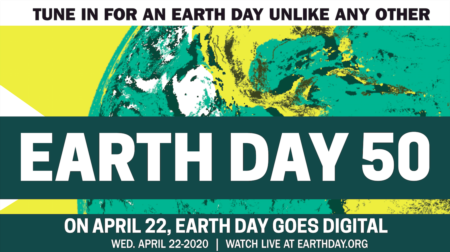 Earth Day 2020, another year to take an oath for environmental protection and to make a pollution-free clean atmosphere to breathe in. On Earth Day 2020, go outside for morning walk to experience fresh air, plant trees, and spend some time in the lap of nature, No matter what is the weather outside?
Earth Day is a worldwide movement started with an objective to spread awareness about environmental protection. The movement begins in 1970 to save nature. There are many environmental issues that we are facing right now such as air pollution, climate change, global warming, improper disposal, etc.
During the Covid-19 pandemic, with businesses being closed and people working from home. Mother Earth has started to heal herself. Take a look at this video.
Even if you are staying home and maintaining social distancing due to COVID-19 still you can be a part of Earth day 2020. Here are some tips that you can follow to participate in the digital Earth day 2020 celebration –
You can host or attend a virtual teach-in online program on environmental issues such as plastic pollution, food security, water quality, biodiversity loss, etc. After attending the online teach-in program, you can share the knowledge with your family or friends to raise awareness.
Take an initiative to raise awareness about plastic pollution effects and preventive measures.
Become an Earth artist by registering your artwork in support of Earth day 2020. You can initiate your artwork online to communicate people inspiring for environmental conservation.
Grab the opportunity to learn about the impacts of your food choices and our food system when you plan to cook a plant-based appetizing recipe. Make a difference with a diet change to fight against climate change.
You can work online for the protection of endangered species. You can collect information and do some research on the conservation of endangered species, their habitat, pollination, etc. Based on your research, you can share your ideas online raising awareness worldwide.The climate crisis isn't an abstract phenomenon, it's real and it's impacting people and planet today.We don't have a choice, after years of talking, countless negotiations and empty deals, we need #climateaction NOW. ⁣⁣

We can, will and must solve both challenges. The world was not prepared for the novel #coronavirus. But we still have time to prepare — in every part of the world — for the #climatecrisis.⁣⁣This pandemic will not silence our voices. Instead, it reminds us of what's at stake for the #planet.⁣⁣

⁣And although it is keeping us apart, it is also bringing us together to take on the fight for our common home.⁣⁣ Will you join us? https://www.earthday.org/ @EarthDayNetwork