Easy Dinner Recipe Of The Week ~ CHILLI DOGS POTATO SALAD
Posted by Diane Mullins on Saturday, February 22, 2020 at 12:00 PM
By Diane Mullins / February 22, 2020
Comment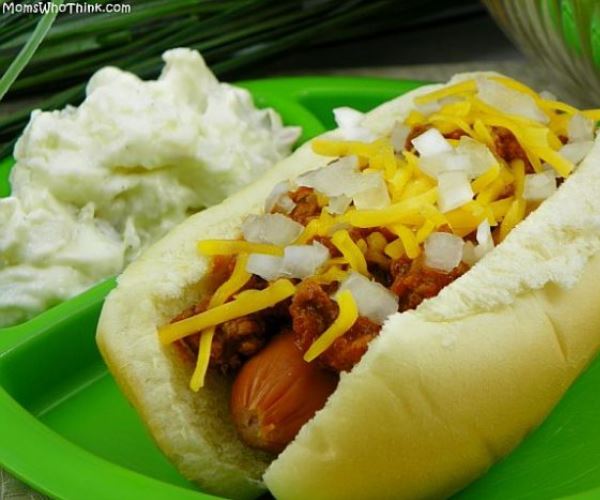 Chili dogs are ballpark and picnic fare, which makes them perfect for adding a little fun to the weekday dinner rotation. The chili is homemade but easy to make, the potato salad can be made the night before so half your dinner is already done.
Chili Dogs Ingredients:
1 pound ground beef
1 garlic clove, minced
1 cup tomato juice
1 can (6 ounces) tomato paste
2 Tablespoons chili powder
1 teaspoon hot pepper sauce
1 teaspoon salt
¼ teaspoon pepper
8 hot dogs
8 hot dog buns, split
Chopped onion and shredded cheddar cheese, optional
Directions:
1. In a large skillet, cook beef and garlic over medium heat until meat is no longer pink; drain.
2. Stir in the tomato juice, tomato paste, chili powder, pepper sauce, salt and pepper. Bring to a boil.
3. Reduce heat; simmer, uncovered, for 20 minutes. Keep hot until serving.
4. Grill or broil hot dogs until heated through. Place on buns; top with chili. Sprinkle with onion and cheese if desired.
Red Potato Salad Ingredients:
3 pounds unpeeled red potatoes
4 eggs
1 ½ cups mayonnaise
2 Tablespoons milk
2 Tablespoons distilled white vinegar
½ cup sliced green onions
½ teaspoon salt
¼ teaspoon ground black pepper
1 cup sliced celery
Directions:
1. Bring a large pot of salted water to a boil. Add red potatoes, and cook until tender but still firm, about 15 minutes.
2. Drain, cool and chop into 1 inch cubes. Place in a medium bowl.
3. Place eggs in a medium saucepan, and cover with cold water. Bring water to a boil, and immediately remove from heat.
4. Cover, and let eggs stand in hot water for 10 to 12 minutes.
5. Remove from hot water, cool, peel and dice.
6. In a small bowl, whisk together mayonnaise, milk, distilled white vinegar, green onions, salt and pepper.
7. Pour the mixture over the potatoes, and mix together with the eggs and celery. Cover, and chill in the refrigerator approximately 2 hours before serving.Checkout the Area's Newest Listings
Checkout the Area's Newest Listings