Easy Dinner Recipe Of The Week ~ Stir-Fried Scallops and Asparagus
Posted by Diane Mullins on Saturday, June 13, 2020 at 6:00 AM
By Diane Mullins / June 13, 2020
Comment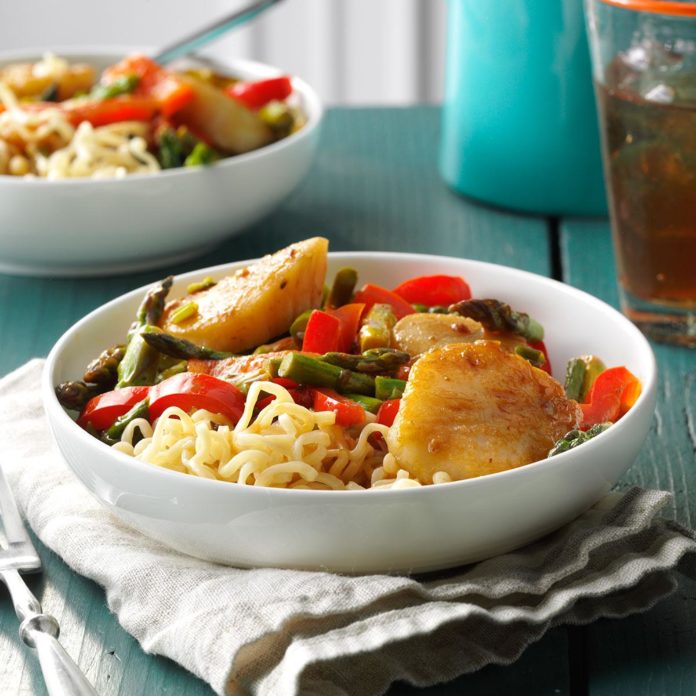 Ingredients
1 package (3 ounces) chicken ramen noodles
1 pound fresh asparagus, trimmed and cut into 1-inch pieces
1 medium sweet red pepper, julienned
1 tablespoon olive oil
3 green onions, thinly sliced
1 garlic clove, minced
1 pound sea scallops, halved horizontally
1 tablespoon lime juice
2 tablespoons reduced-sodium soy sauce
1 teaspoon sesame oil
1/4 to 1 teaspoon hot pepper sauce

Directions

Discard seasoning package from ramen noodles or save for another use. Cook ramen noodles according to package directions; keep warm.

Meanwhile, in a nonstick skillet or wok, stir-fry asparagus and red pepper in oil for 2 minutes or until vegetables are crisp-tender. Add green onions and garlic, stir-fry 1 minute longer. Stir in scallops. Stir-fry for 3 minutes or until scallops are firm and opaque.

Combine the lime juice, soy sauce, sesame oil and hot pepper sauce; stir into skillet. Serve with ramen noodles.