National Adopt A Shelter Pet Day - Snow White
Posted by Diane Mullins on Thursday, April 30, 2020 at 6:34 PM
By Diane Mullins / April 30, 2020
Comment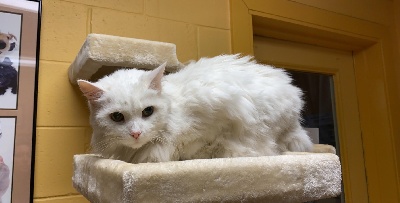 Many of our shelters are closed to the public right now, but there are several volunteer rescues that have access to our shelters and get animals out and put them in foster care.
Our third Pet for is Snow White - she is at the
Madison -Jefferson County Indiana Animal Shelter
.
Snow White is ~ young, approximatley one to three years old ~ Female ~ Small Size ~ White
Snow White has ~ Medium Coat ~

Vaccinations, neutered (Check with the shelter)
Most Shelters require this to be completed at the adoption.
Snow White is ~ A Cat LOL! They letyou know WHEN they want to deal with you! LOL!
Snow White is ~ young and her

owner died and she and her sister Grumpy were brought to the shelter.




Please bear with the shelter during these trying times. We understand that you are stuck at home and it would be a great time to adopt a pet, however the animal shelter has only four employees. If we all get sick, who will take care of the animals? Animal adoption is not a necessity, and therefore should not be undertaken until the Covid-19 scare is over, per the Governor of Indiana. The animals still need to be cleaned, fed, watered, and played with, but we cannot do that if someone brings COVID-19 to the employees.

The animal shelter is closed. If your pet happens to end up here, we will work with you, at a safe distance, to allow the reclaim of your pet. Other than that, please don't come to the shelter. We're sorry that we can't allow you in at this time, but we have our own health to consider.

We currently have nowhere to take aluminum cans, so if you could please hold those donations, we will appreciate it greatly.

We also have an abundance of both dog and cat food. The best donations right now would be plain clay kitty litter and toys for the cats. For the dogs, real bones or pork skin chews would be much appreciated.



If you are interested in adopting Snow White you may call the Madision Indiana/ Jefferson County Animal Shelter at ~ 812-273-1788 or send them an email at ~

[email protected]




They are located at:

2727 Hannah Drive,

Madison, IN
If you already have fur babies or you are thinking of adopting, remember a safe home is very important.
We can help you find the perfect home.
Check out Our List of Pet Friendly Homes With Fenced in Yards