Setting The Mood In Your Home By Using Scents.
Posted by Diane Mullins on Friday, November 8, 2019 at 10:29 AM
By Diane Mullins / November 8, 2019
Comment
There's no doubt that scented candles are a great choice for adding sophistication and personality to a room. But did you know that the fragrance from a candle can do so much more?
Forget about the natural beauty of a candle for a while and let's talk about how certain fragrances from candles can affect your well-being. As it turns out, certain scents have the power to positively impact your mood and do amazing things to both your mind and body! Our sense of smell is incredibly powerful and shouldn't be underestimated. From boosting energy to relieving stress or even enhancing mental clarity, the aromatherapy properties coming from a lighted scented candle can deliver psychological effects. For example, did you know that rosemary scents produce aromas that can invigorate and energize? So if you're you're stuck with a morning fog, this scent may be your perfect coffee alternative!
On the other hand, research suggests that lemongrass or spearmint scents help clear sinuses when you're feeling a bit under the weather – handy, isn't it?
And on days when you're feeling blue, light up a candle with jasmine or grapefruit scent and you'll feel a waft of joy and positivity.
In the fall, many people lean towards apple cinammon, and warm snickerdoodle cookie scents for that "Fresh Baked" smell in their home, and that comforting "Afternoon at grandma's house" feeling!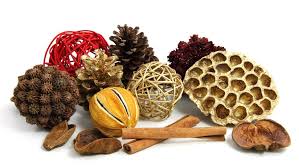 Today there are many options besides candles to give your home a welcoming feeling. Difusers, essential oils, wallflowers.
What do you use to add those comforting smells to your home?