Utility room design ideas
Posted by Diane Mullins on Sunday, January 31, 2021 at 9:00 AM
By Diane Mullins / January 31, 2021
Comment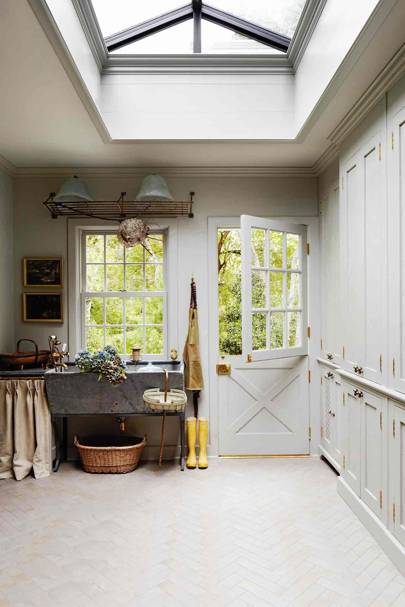 Boot, laundry and flower rooms can be the hardest working in the house, where the backstage elements of everyday life are hidden from sight. However, as shown by the schemes in our gallery below, they can still be lovely spaces.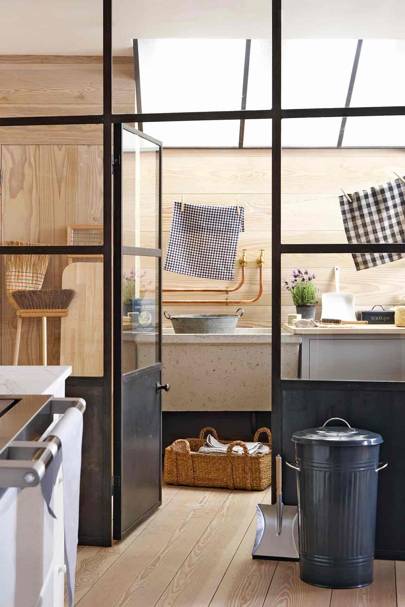 With a bespoke concrete sink and wall-to-wall wooden panelling concealing storage, this modern utility area designed by Katie Fontana, creative director of Plain English, is beautifully finished in simple materials.
'I prefer to design cupboards rather than open shelving, where possible, to conceal certain items,' she says. She recommends natural-stone or stone-composite worktops in a laundry room as 'they are easier to maintain than wood'.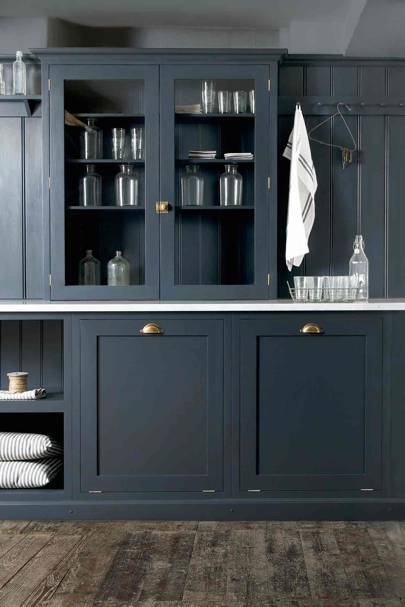 Allow practical elements and appliances to blend in with the rest of the units. There is nothing to suggest that a washing machine and dryer are hidden behind this smart cabinetry by DeVOL.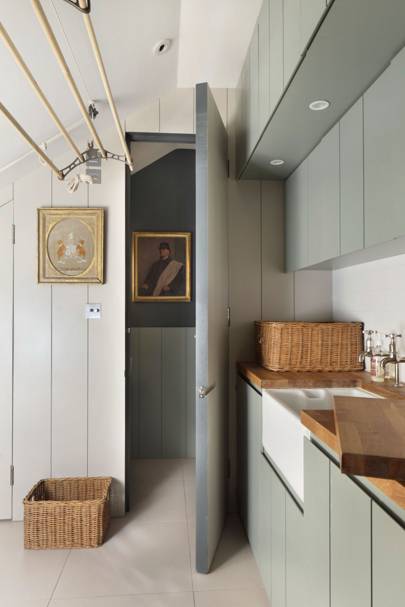 This laundry room has been elevated above the purely functional to a beautifully decorated space complete with framed pictures and a smart colour scheme. As seen in this room designed by De Rosee Sa Architects, a Sheila Maid clothes dryer is a great solution for keeping the floor clear in a small space with a reasonable ceiling height. These are available to buy from gardentrading.com.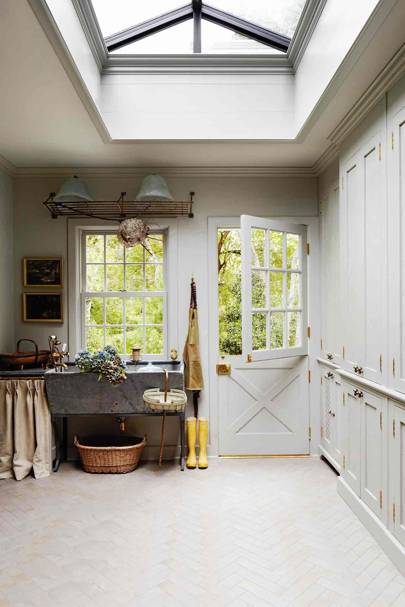 This multifunctional utility area has the luxury of space and natural light. Floor-to-ceiling cupboards hide unsightly objects, and a large sink with a shower mixer as well as a tap are practical tools.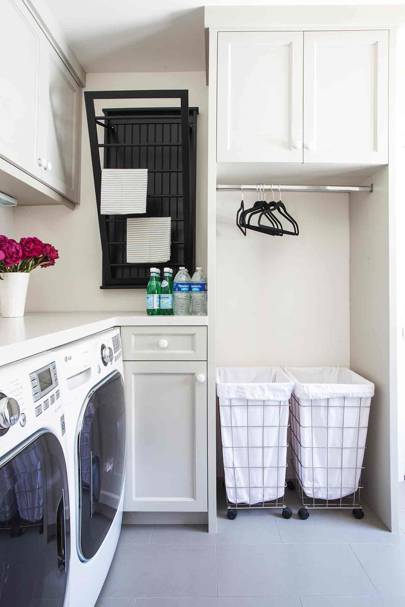 Designate an area for hanging washed clothes and use baskets on wheels to manoeuvre laundry. For extra drying space, a pull-out drying rack fitted on to the wall is a good idea, as seen in this utility room designed by Von Fitz Design. For something similar, try pulleymaid.com.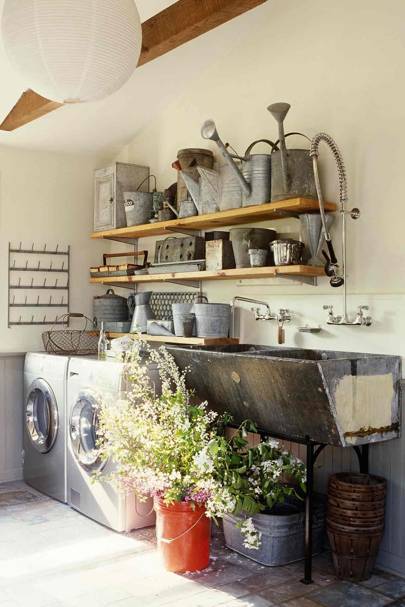 Simple and functional, this flower and laundry room has a 1.2-metre-long soapstone sink. An extra-long hose tap is perfect for cleaning out tall vases, and unfussy open shelves make it easy to see exactly where everything is.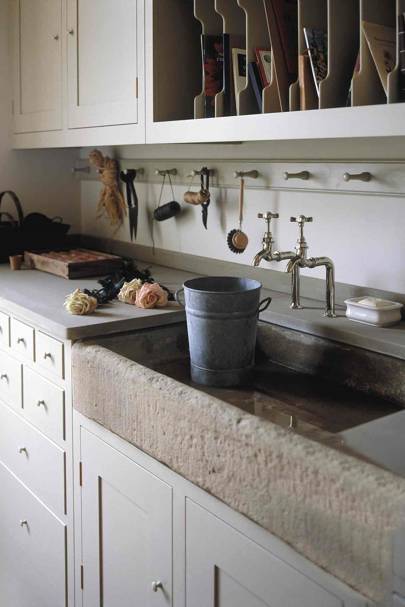 This flower room by Plain English has been created with a florist in mind. The large concrete butler's sink and stone flooring are practical choices and also make the room feel cool.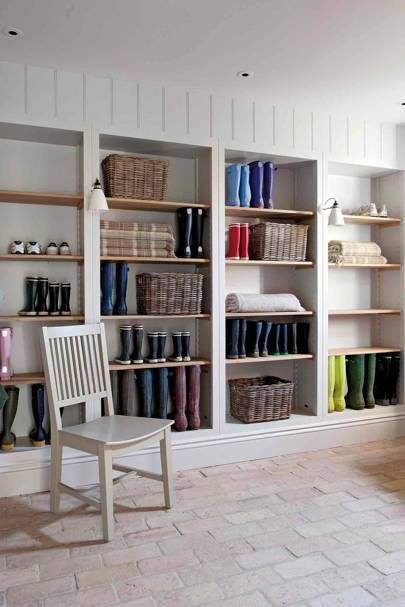 A bank of open and adjustable shelving to house Wellington boots looks smart in this boot room by John Sims-Hilditch, co-founder of Neptune, who says, 'Adjustable shelves are essential, as they let you make space for bulkier or taller items.'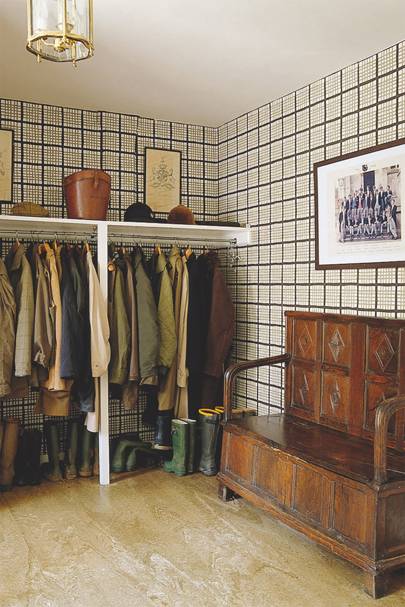 A handsome checked wallpaper ('Astrid' by Sandberg is similar) strikes a bold note in this Grade I-listed Tudor house. Designer Gavin Houghton also chose an antique monks bench for useful additional storage. Tim Bowen Antiques has similar benches in stock.