Winter Weather Advisory
Posted by Diane Mullins on Monday, February 8, 2021 at 10:00 AM
By Diane Mullins / February 8, 2021
Comment
A Winter Weather Advisory has been issued for part of our area Monday afternoon through Tuesday morning where accumulating snow is most likely. While many in these areas will see accumulating snow, there is also the chance of some minor ice accumulations closer to the Ohio River Monday night. The snow and ice may create slick roads and sidewalks Tuesday morning.
The snow will move into Southern and Central Indiana Monday afternoon, and the forecast models are continuing to show more moisture. If you will be in Jackson, Jennings, and Lawrence counties around the time of the evening commute Monday, you may even start to see road conditions deteriorate by that point.
Snow will continue to fall Monday evening and overnight into the early Tuesday hours. As temperatures at the surface continue to drop, some sleet or freezing rain may mix in with the snow closer to the Ohio River early Tuesday. This happens when there is a layer of warm air above ours heads but air that is colder than freezing down here at the ground. This would allow ice to stick and accumulate to roads, cars, sidewalks, etc. before the Tuesday morning commute.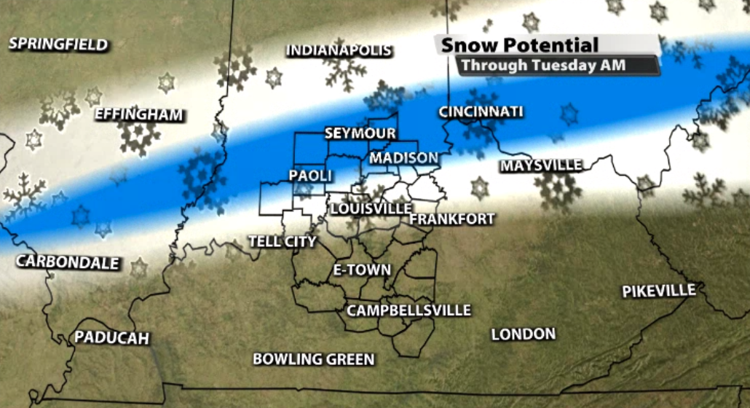 In the image below the blue shading is where we expect 2"-4" of snow may be possible. The white shading represents areas that will see closer to one inch of snow, but may also see some sleet or freezing rain mix in. Much of Kentucky will dodge the snow and ice potential Monday night.
This is just the first of many rounds of Winter Weather that will move through our area this week. Our confidence continues to grow in the likelihood of seeing accumulating ice in Kentuckiana Wednesday and Thursday.
Please continue to check the latest forecast information on TV and Radio
. If this forecast continues, it is likely we will get more winter weather alerts from the National Weather Service.
This information Courtesy of WDRB TV and the National Weather Service